Vauxhall Vivaro crowned Business Van of the Year 2016!
Details
The British built Vauxhall Vivaro has been selected as the 2016 Business Van of the Year by Business Vans.

Martyn Collins, editor of Business Vans has said, "So why is it our top van you may ask? Well in a nutshell, it's a massive step forward over its already excellent predecessor"

Collins also added, "Like the last Vivaro, the current one is easy and car-like to drive. Yet the latest Vivaro adds impressive refinement and in winning 1.6 CDTI 16v BiTurbo form – this Vauxhall boasts 120PS and 320Nm of torque. However, all this power isn't likely to hit buyers in the pocket as it's still capable of a class-leading 47.9mpg on the combined cycle."




Dave Bowen, chairman of the judges and managing director of BT Fleet also shared his thoughts on the new award saying, "The Vivaro provides outstanding green credentials and a fantastic overall small business solution."

"The Vivaro eco FLEX BiTurbo offers a hard working business tool that through sheer efficiency helps minimise its environmental impact."

Vauxhall's latest edition of the popular commercial vehicle has been on sale for just over a year and added this latest accolade to its ever growing range of awards, also winning the 'Best Green Van' and 'Best Large Trades Van' categories.





Kwik Fit to attend 2016 Commercial Vehicle Show as exhibitors
Details
Kwik fit have announced that they will be exhibiting at the 2016 Commercial Vehicle Show being held at the Birmingham NEC from April 26-28.

Over the last few years, Kwik Fit have managed to penetrate the light van sector thanks to its increased offerings into the vehicle servicing and MoT segments.




Kwik Fit fleet director Peter Lambert has said, "The Commercial Vehicle Show is the shop window for commercial vehicle operators and at the event four years ago Kwik Fit launched its improved service to light commercial vehicle fleets, small business, sole traders and the retail market."

Lambert also added, "Since then demand for Kwik Fit's light commercial vehicle tyre fitting proposition and expanded range of mechanical services has increased significantly, particularly as the number of vans on the UK's roads continues to rise rapidly."

"The Show continues to provide a major focus for Kwik Fit to promote its comprehensive range of services to the sector, to secure new business opportunities and to network with existing customers."



Registrations now open for the Commercial Vehicle Show 2016
Details
Registrations have opened for the 2016 Commercial Vehicle Show, the UK's biggest event for the road transport, distribution and logistics industries.

The event is free to attend and all you need to do to visit is register via the official website at https://www.cvshow.com/webcontent/.

This years CV show takes place in five halls at the Birmingham NEC from 26-28 April and has already gained nearly 400 exhibitors with the number growing up until the event date.


There were over 19,500 visitors that attended the CV Show last year making this event the 'go-to' event for anyone involved in operating commercial vehicles, logistics and distribution-based businesses.
One of the main draws to the event is the inclusion of new vans for the year, with manufacturers such as Fiat, Ford, Isuzu, Citroën, Iveco, LDV, Mitsubishi, Peugeot, Toyota and Volkswagen attending making this one the most widely attended light commercial vehicle shows since the event started.

CV Show director Rob Skelton has said, "In 2015, the show was a massive success and saw an impressive increase in visitor numbers. Several key deals were done during the event, and we had some fantastic feedback from both exhibitors and visitors alike."

He also added, "In 2016, we're looking to build on this and make the CV Show more effective and busier than ever – we'd encourage visitors to register now to avoid queueing, and also receive important updates in the run-up to the event."
Volkswagen's executive committee stand behind CEO Matthias Müller
Details
Following the discovery of the Volkswagen emissions scandal on 18 September 2015 and the subsequent resignation of then VW CEO Martin Winterkorn several days later,  the mantle of CEO for Volkswagen AG was taken up by Matthias Muller.

During a recent committee meeting where members of the supervisory board had discussed the CEO's recent progress in cleaning up after the diesel-emissions scandal and as to whether they believed that Müller was the right man for the job.

Deputy Chairman of the supervisory board committee Joerg Hofmann has commented that, "We discussed many issues at VW yesterday, not only Mr Müller. We are very conscious that there is no alternative. The question does not arise,"


Hofmann also said that, "The impression he gives is that he is working in a very serious and results-oriented way on the problems. People like to speculate but there is neither cause nor reason to express doubt on this issue."



28 Volkswagen Crafter panel vans added to the Northern Ireland Electricity Networks fleet
Details
Northern Ireland Electricity Networks have renewed their partnership with Volkswagen Commercial Vehicles by adding 28 Crafter Panel vans to their fleet.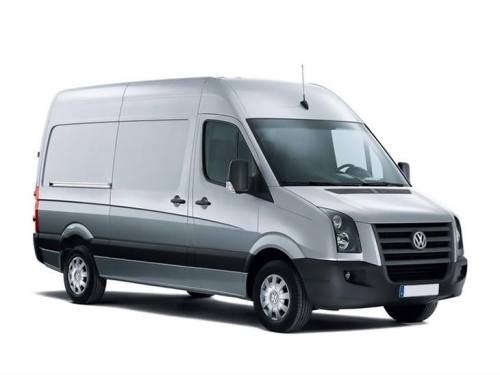 The Northern Ireland Electricity (NIE) Networks are responsible for 47,000 kilometers of underground and overhead cabling that delivers electricity to 850,000 homes and businesses across Northern Ireland.

Currently comprised of over 400 vehicles, NIE Networks have added an additional 28 Crafter CVs to their fleet as part of their regular replacement vehicle programme.

The network opted for the Crafter CR35 MWB panel van which due to its spacious load capacity, rear-wheel drive functionality and ability to take bespoke conversions, thanks to this each of the new Crafter vans will be equipped with specially fit racking solutions installed.

David Corry, supply chain and fleet manager for NIE Networks has said, "As the network company, we have a responsibility to ensure homes and businesses across Northern Ireland have a reliable electricity supply. It was the reliability and the first-rate aftersales service offered by Volkswagen which helped to make it an easy decision when it came to replacing vehicles on the fleet. We have had excellent experience in the past with Volkswagen, and we're pleased to continue the relationship."