Van Insurance Customers Are From All Walks of Life
Details
There was a time in the not so distant past that pretty much any fleet manager who purchased any driver van insurance did so in the expectation that the vehicle would be driven by a builder, decorator, plumber, electrician or other tradesperson.
However, recent research has revealed that, these days, the driver of a commercial vehicle is also likely to be a caterer, knitter, fermented foods specialist, artist, theatre-maker or children's entertainer.
Yes, van driving demographics are changing. The findings, which are based on an analysis of around 700,000 van insurance quotes, show that in the twenty-first century it is no longer possible to make the old assumptions about who drives a van.
However, some trades continue to lead the way in certain van insurance statistics: plumbers and heating engineers are revealed as the most accident-prone, with one in nine making a claim on their policy each year.
The statistics further reveal that men continue to be more accident-prone than women, with men both more likely to be involved in an accident and more likely to make a claim on their insurance policy. Ford, Volkswagen and Vauxhall are the three models of van most likely to be involved in an accident.
Interestingly, many people appear to be driving a van without even realising that it is categorised as such. The statistics show that every month an average of 8,300 people search for a car insurance quote only to be redirected to van insurance providers once they enter the make and model of their vehicle – vans are becoming more mainstream, even if many drivers do not even realise it.
Rear-end collisions continue to be the most commonly claimed for van accident, accounting for 22 per cent of all claims; this was closely followed by incidents involving a parked vehicle, which accounted for 18 per cent of claims.
Any Driver Van Insurance Quotes with iVan
Every year there are more vans on the UK's roads. This is because they help form the backbone of Britain's economy – and this includes just about every trade, profession, art, craft and career.
If you are looking for an any driver van insurance policy, iVan can help you find the cover you need at the price that is right for you. Try our quote engine today by clicking the orange button below.
Young driver accident rates drop by 35%
Details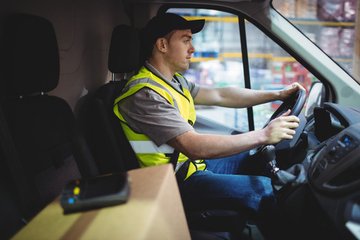 For many younger van drivers, 2018 will mark the first time that they make the long drive home for Christmas. It is something of a landmark and a rite of passage. However, for those who have been unable to reach this position, perhaps because they have struggled to meet the cost of under 25 van insurance (generally more expensive than any driver van insurance for over 25s), there is positive news ahead of the start of 2019.
This comes in the form of statistics which reveal that there has been a sharp drop in the number of serious and fatal road accident injuries in the UK involving younger drivers, particularly those in the 17-19 age bracket.
In fact, although there has been a welcome downward trend in the number of serious and fatal road accidents right across the UK population since 2011 – with numbers falling by 16% across all demographics – the number of incidents involving drivers aged 17-19 has fallen by 35%.
The figures indicate that numerous road safety campaigns as well as under 25 van insurance and car insurance incentives may finally be bearing fruit, making younger drivers more aware of their responsibilities while also providing incentives for safe driving.
It is thought that telematics insurance may have played a role as it helps drivers keep track of their driving while also providing them with penalties for dangerous driving: as many as four in five young drivers in the UK may have a telematics policy today, with the British Insurance Brokers' Association (BIBA) estimating that there are almost 1 million telematics-based policyholders in the UK.
Take Care on the Road this Christmas

According to one insurer, in 2017 the day with the highest number of road accidents in was 15 December, indicating that the cold dark days of December are a danger for any driver. However, the lowest number of accidents occurred on Christmas Day itself, perhaps because there were fewer journeys undertaken.
Whatever the case, if you are on the road at any time during this Christmas period, take care to ensure that you are mindful of the conditions as well as your own driving.
Get helping finding the best quote with iVan

Even though younger drivers remain the riskiest drivers on the road, and therefore any driver van insurance for over 25-year-olds will still have cheaper policies than insurance for under 25s, it's nonetheless encouraging to see that the number of accidents involving this age group is falling. As a commercial vehicle insurance specialist, iVan may be able to give you cheaper under 25 van insurance if you have a safe driving record. Try our Quote Engine today.
Van Insurance 5.1% Cheaper
Details
The price of van insurance for any driver is going down according to a new study by data analytics company Consumer Intelligence, which showed that the cost of the average van insurance premium was £1,442, 5.1% cheaper than in 2017.
It marks an unusual good news story for motor insurance customers who, in recent years, have become accustomed to a diet of stories about the impact of crash-for-cash scams, inflated whiplash claims, the Ogden rate and spiralling costs.
It is thought that one of the reasons that van insurance for any driver is cheaper than last year is the introduction of the Civil Liability Bill, which aims to reduce the impact of fraudulent and inflated claims.
However, it is worth remembering that we are still in the grip of a trend towards increased premium prices, which remain around 35% higher than they were in April 2014 when Consumer Intelligence began tracking prices.
There was some discrepancy between the cost of van insurance for private vehicle use and for commercial vehicle use. Drivers using their vans for business benefited from premiums that are 4.8% cheaper than last year, while people who use their vans for personal purposes saw their premium price fall by 6%. However, business van insurance customers were still paying around £200 less than personal-use van insurance policyholders. This is because repeated studies have shown van drivers to be more cautious when driving their vans for business purposes – for example, the carriage of goods.
Interestingly, younger van drivers made the biggest savings [12.6%], but still had to contend with a huge average premium price of £4,585. Those over 50 enjoyed more modest savings but nonetheless should expect to pay around only £577.
"The big question is whether price reductions will be sustained as the decreases have slowed in the past three months to just 0.2%," commented John Blevins, Consumer Intelligence's pricing expert.
"Much of the recent drop in premiums can be attributed to insurers passing on the benefits of the Civil Liability Bill as it goes through Parliament.
"However, in the absence of any other market factors pricing and premiums will be dictated by claims frequencies and costs."
As ever, if you want cheap any driver van insurance, the best thing you can do is to scour the market, compare premiums and, where possible, find a van cover specialist.
Nearly all Fleets to be Electric by end of Next Decade
Details
Fleet van insurance for electric vehicles will soon become the norm among commercial vehicle fleet managers according to a piece of research by GPS fleet tracking and management firm Geotab.
It said that it anticipates that by 2030, nearly nine in ten (89%) of all fleet van insurance policies will be for fleets of electric vehicles, which, given that less than half of all UK-based fleets currently include an electric vehicle, would mark a seismic change in the fleet management landscape.
Fleet managers are largely enthusiastic about the prospect of chance, with one in six of those surveyed saying that they believe adoption of electric fleets will have a welcome environmental impact. Only 2% reported feeling resistant to the idea of change.
However, there is also an acceptance that regulatory, legislative and technological changes are driving the decision-making of fleet managers, with the study citing government programmes (48%), changes to charging infrastructure (48%) and an enhanced offering of electric vehicles (32%) as the major incentives to make the change to a fully electric fleet. In addition, 88% of commercial vehicle fleet managers say that they anticipate that future regulatory changes will make full adoption of electric vehicle fleets all but inevitable.
However, fleet managers report finding themselves in a transitional period in which they must overcome the challenges of new rules and regulations, prohibitively expensive electric vehicles, poor charge-point infrastructure, low distance range and the need to familiarise themselves with new technologies.
"These survey results help to demonstrate that the government's call for an EV future is not something businesses are taking lightly," commented Geotab's vice president in Europe, Edward Kulperger.
"With most fleet leaders looking to have a fully EV-dependent fleet over the next few years, it's no longer a question of if, but rather how soon a complete overhaul can take place."
This survey emphatically indicates that fleet managers are largely ready to begin the process of making the transition to fleets of electric commercial vehicles. However, it is also clear that they will need support through this process, and the onus is on both government and various regulatory bodies to ensure that suitable guidance and infrastructure is in place to help them on the journey. We all want a greener, healthier future, and by adopting green electric technologies for their vehicles, fleet managers can fulfil their obligations in this regard, but they cannot be expected to do this alone.
Why are fleets so slow to go electric?
Details
Around 10 years ago, it seemed that the fleet van insurance policyholder of the future would be the owner of a fleet of predominantly electric vehicles, yet here we are approaching the third decade of the 21st century and it seems that, in fact, little has changed; the vast majority of commercial fleets are still made up of diesel and petrol vehicles.
For example, in 2010 online supermarket retailer Ocado introduced two electric vehicles to its fleet of 1,500 vans with the expectation that within only a few years the number of eco-friendly vehicles would grow and eventually surpass that of its traditional fleet.
Unfortunately, things have not panned out this way. Perhaps it is because of numerous economic pressures, because of a reluctance to make the capital expenditure, or because electric fridge vans require too much battery power to make them practically viable, but the truth is that Ocado, just like other supermarket delivery companies, is still some distance away from becoming a predominantly electric fleet van insurance policyholder.
Fortunately, there are encouraging signs that change may finally be brewing. Firstly, in 2017 Ocado asked Danish innovator TRIPL to conduct electric van trials in London, although these did bring to light concerns regarding load capacity and mileage range; then, and perhaps most encouragingly, this year Ocado finally added to its electric fleet when it bought 15 converted Fiat vans with a view to putting them on the nation's roads by the beginning of next year.
Government-level changes should make a difference to. Recently, the UK has offered EU-based incentives to companies, allowing them to employ standard-licenced drivers to drive vehicles above the 3.5-tonne weight limit provided that they meet certain eco-standards. Furthermore, as low-emission zone rules become more stringent, retailers will have to act if they are to keep operating costs low.
Amazon is just one of many retailers currently taking the lead. Its partnership with Mercedes-Benz means that by the end of this year, it will be running 100 eVito electric-powered transit vans in Germany. If this proves successful, it is surely only a matter of time before Amazon's UK arm follows suit.
Meanwhile, this month UK Power Networks added eight Renault Kangoo electric vans to its London fleet as part of a drive to move a greater proportion of electric vans. It may be taking longer than first anticipated but it seems with small steps we finally are moving towards the day when electric fleet van insurance becomes the norm rather than the exception.