Van Insurance Prices Outstripping Inflation
Details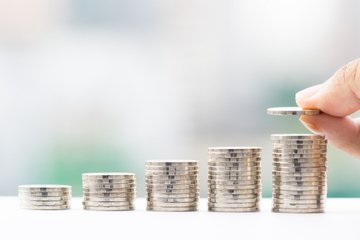 Figures from data analyst Consumer Intelligence revealed that the cost of van insurance premiums has risen by an astonishing 37.4% since April 2014, the date on which Consumer Intelligence began recording data.
In fact, the last quarter alone has witnessed a 2.2% rise in the cost of van insurance, meaning commercial vehicle premiums price rises are now outpacing the rate of inflation.
The firm attributes the most recent rise to the new discount rate, which was set by the government last August. Curiously, however, the Ogden rate was reduced; something that is normally associated with a dip in the cost of van insurance. But insurance industry insiders say that the rate was not reduced as far as insurers had been predicting. As a result, it is claimed, insurers are now passing on unexpected costs to the consumer.
"Excluding Ogden, pricing fluctuations are based on claims experience and we've observed no other seismic events within the van market," said a spokesperson with Consumer Intelligence.
The figures include some surprises. For example, younger van drivers (those aged between 17-24) are only paying 1.2% more for their van insurance policies than they were in 2014 (they have actually become 11.6% cheaper in the last year), while, in contrast, those who are between 25 and 49 are paying 46.9% more, with the over-50s facing a similar situation (they are paying 45% more).
Furthermore, van drivers who use their vehicles for non-commercial purposes are actually paying less than they were in the last quarter – with premiums prices going down by 1%. However, they are 'social, domestic and pleasure' (SDP) policies for vans are up by 41.6% on what they cost in April 2014.
One thing remains true: whoever you are and whatever your age, if you want to find cheaper van insurance, whether you're a sole trader looking for a single driver policy or a small business owner needing any driver van insurance and fleet insurance, it pays to shop around by comparing quotes. Get a quote with iVan today. 
Van Insurance Sector Rides Sector Growth
Details
Figures released by the Society of Motor Manufacturers and Traders (SMMT) in January are indicative of a thriving van insurance sector.
They detail a 2.4 percent growth in new van registrations over the course of 2019. This translated to 8,500 more registrations for light commercial vehicles (those weighing up to 3.5 tonnes) than in 2018, with 365,778 such registrations in 2019.
Within this category, vehicles weighing between 2.5 and 3.5 tonnes were the most popular (228,659 registrations), next came vehicles weighing between 2.0 and 2.5-tonnes (56,402 vehicles registered). There was also growth in the sub-two-tonne category, with sales rising by around 5 per cent to more than 26,000.
In fact, the van sector bucked the trend witnessed throughout most of the motor industry in 2019, with new car registrations down 2.4 percent despite a breakthrough year for electric cars.
"A healthy van market is good news for the industry, environment and exchequer and so the rise in 2019 registrations is very welcome," said SMMT's chief executive Mark Hawes. "As we enter a new decade, however, we need this upward trend to continue if we are to address environmental concerns. The quicker these new vehicles become commonplace, the quicker their positive impact on air quality and climate change will be felt."
This positive outlook for the van sector is supported by data from within the van insurance comparison sector, which reported a 7% increase in van insurance quotes in 2019 compared with 2018.
According to one provider, the five most popular vehicles for van insurance policies in 2019 were as follows:
Ford Transit – this tried and tested vehicle proved too strong for the competition, again. It attracted an average premium price of £1288.95.
Vauxhall Vivaro – the bride's maid for the second year running. Attracted an average premium price of £1002.69.
Ford Transit Connect – different versions of the Ford Transit take two of the podium places. The average Ford Transit Connect van insurance price was £1042.64.
Mercedes-Benz Sprinter – just missed out on a podium place, perhaps because of its average premium price of £1669.51 on their premium.
Ford Transit Custom – yes, Ford really does finish in three of the top five places. Average premium price £1078.11.
Tips for Van Insurance Customers in the 2020s
Details
A new year and a new decade have arrived for the nation's van insurance customers. As is typical, the new year and the new decade are a time of change, so if you rely on a van for your business, you better be aware of some of the driving laws and driving innovations that will serve to make this new decade different to the last.
New smartphone laws
We have known for some time, that driving while using your mobile can be as dangerous as driving under the influence of alcohol. As such, in 2003 the government introduced rules to stop drivers from using their phones when behind the wheel.
However, the 2003 law had its limitations – it was drafted at a time when phones still had buttons and sophisticated touchscreens largely remained the stuff of sci-fi. In 2020, as a response to the acquittal of man who used his phone to film a crash, loopholes in the 2003 law have been closed, so from spring of this year, the law will also apply to the use of phones for purposes other than communication – i.e. to "browse the internet, film, take photos, or scroll through playlists".
Those who break the law face a £200 fine and six penalty points.
Post-Brexit forays into Europe
With the UK now finally scheduled to leave the EU on 31 January, you should be aware that if you plan to drive on the continent, you may need to apply for an international driving permit (IDP).
An IDP costs £5.50 and can be applied for from the Post Office. Check whether you will need one for your intended destinations – for example, you will need an IDP for France but not for Belgium (if you are visiting for 185 days or less).
Importantly, remember that you will also need a van insurance green card from your commercial vehicle insurance company.
New MOT rules
Many people are unaware that the rules regarding MOTs recently changed. For example, there are now more stringent classifications, and if your van fails its MOT, you will not be able to drive it until it has been adequately repaired.
Also be aware of new tests for contaminated brake fluid and underinflated tyres.
Van insurance market evolution
The van insurance market is continuing to evolve and this is likely to continue apace in the new decade. Nowadays it is possible to search online for niche cover such as an any driver van insurance policy, young driver policy or fridge van policy. It is also increasingly easy to compare van insurance quotes by using a specialist company such as iVan – Happy New Year!
IFB Warns of Van Insurance "Ghost Brokers"
Details
Van insurance customers have been warned against being directed to buy their policies through social media during the post-Christmas period after a number of scams came to the attention of the Insurance Fraud Bureau (IFB).
The van insurance scams centre around the use of so-called 'ghost brokers' which offer seemingly enviable rates, usually targeting younger drivers and others vulnerable to exploitation because of their difficulty in finding cheap cover – one in three victims are aged 18 to 24.
However, by buying one of these bogus policies, van drivers face being left without any form of cover and potential prosecution for driving without insurance, which can result in six penalty points and a £300 fine as well as seizure and destruction of their vehicle. Unfortunately, for those who are unwittingly caught out by the scam, ignorance of the law is no excuse.
According to the City of London's Police Insurance Fraud Enforcement Department, victims of the scam lose an average of £769.
Detective Chief Inspector Andy Fye said that although cheap van insurance "may seem tempting", if it seems too good to be true, it probably is; as such, the best course of action for these motorists is to compare van insurance quotes with one or more firms who specialise in the provision of van insurance quotes.
Furthermore, the IFB says that rising van insurance prices have led to an increase in ghost broking scams, with IFB investigations into ghost broking scams more than doubling over the past three years.
How to check whether a broker is real
According to the Insurance Fraud Bureau, the only way to check whether an insurer is legitimate is to see if they are registered with the British Insurers Brokers' Association; policies should also be registered with the Motor Insurers' Bureau.
January 16: The Worst Day for Accidents
Details
If you've managed to make it through January 16 without needing to notify your van insurance company of an accident, you have done well; January 16 is the most accident-prone day of the year in the UK, according to data from a motor insurance company.
It has long been known that January is the worst month of the year for accidents and van insurance claims, so, in a way, it makes sense that the 16th would be the worst day for collisions; it falls right in the middle of the month. January 18 and January 13 were the fourth and fifth worst days respectively.
The data shows that on January 16 there are 420 collisions per hour in the UK, which equates to one every 8.57 seconds.
Why are there so many accidents in January?
It is easy to see why there might be a disproportionate number of accidents in January. Not only are daylight hours at their shortest, but there are also climatic variables such as cold and frosty mornings, high winds, flooding and black ice to contend with. Furthermore, many may also be worn out by or 'coming down' from the Christmas period. One thing is surprising, however: drivers tend to cover fewer miles in January so in theory have less opportunity to become involved in an accident.
What is the most common kind of January accident?
The majority of January crashes involve one vehicle rear-ending another, while the difficulty of January driving conditions is reflected in the fact that the second most common type of insurance claim is for single-vehicle collisions. The third most common January motor insurance claim is for incidents involving a parked or stationary vehicle.
The causes, a statistical breakdown
Driver explanations for the accidents tally with the notion that January makes for a perfect storm when it comes to road safety. Drivers said their accidents were caused by poor concentration (24 per cent), bad weather (20 per cent), poor visibility (20 per cent) and tiredness (10 per cent).